jQuery can empower a developer with the tools required to create a rich user experience. The way in which we display images, text, charts and graphs can enhance functionality for the wide range of users. Lets take a look at 35 powerful and effective jQuery plug-ins and techniques for sideshows, graphs and text effects.

jTruncate allows you to customize nearly every aspect of the truncation operation. It provides simple yet customizable truncation for text entities in your web page.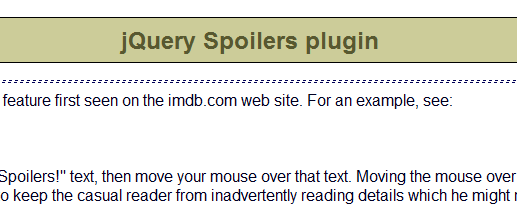 Spoilers is a jQuery plugin which implements a feature first seen on the imdb.com web site. The pages using this plugin to show "Spoilers!" text, but when you mouse over that text, "Spoilers" disappear and the underlying text is revealed. The intention is to keep the casual reader from inadvertently reading details which he might not want to know. By mousing over them, he can reveal the details.

The jQuery sIFR plugin is an addon for jQuery that makes it easy to replace text in a web page with flash text (sIFR) using the internal jQuery API.

Here's a small jQuery plugin that allow textareas to stretch as content is put in. If the content goes over the defined height of the textarea, the textarea will grow as needed.

This page contains a couple of demos of the Jquery plugin Elastic. Elastic makes your textarea change its height dynamically.

Some of these plugins have been merged into jQuery core in one form or another. These include the ability to batch results into an array, a resolution for IE z-index issues, auto-expand text areas, dynamically create configurable gradient to the background without using images, implement the over label technique, live query and many more helpful plugins.

Airport is a rather simple text effect plugin for jQuery. It emulates the style of those flickering information boards you sometime find on airports and train stations.